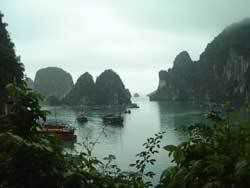 Considered as UNESCO world heritage site, the beauty of Halong Bay is featured in the movie
Tomorrow Never Dies
and in the reality show
Amazing Race
. Literally means descending dragon, this Asia travel spot features various limestone karsts and islands that adds it's majestic beauty among other places in
Vietnam
. With it's vast area lies different species and ecosystems including small freshwater lakes, sandy beaches, freshwater swamp forests and mangrove forests.
The islands found here were named according to the shape they formed such as Hòn Rông or Dragon Island and Hòn Cánh Buồm or Sail Island that looks like a sail struggling against the sea. From the far away distance, it looks like a painting but camera and even canvas can't capture it's majestic beauty.
You can venture the caves and limestones here by taking a boat or do island hopping. Sailing is also a wonderful activity to do here aside from shopping from local stores loacted in the vicinity. You can also do the kayaking or take a cruise to have a clearer view of the islands surrounding the bay. With it's diverse ecosystem and breath-taking panorama, no wonder that this asia destination will make it in Seven Natural Wonders of the World.