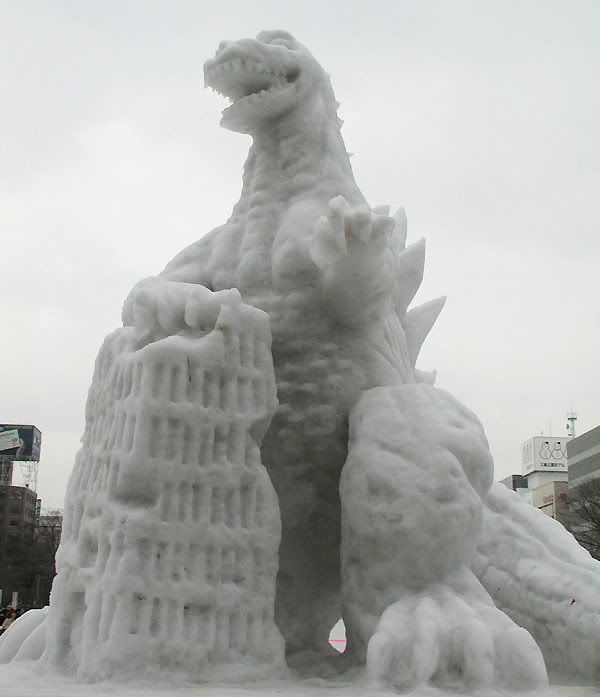 Godzilla captured on ice? How about an icy street? You will be fascinated by the glittering structures and dazzling ice carvings you can only find at
Sapporo
. As they celebrate the annual snow festival, several teams from around the world gather to exhibit their sculpting prowess by creating statues, edifices and landmarks. The streets of
Sapporo
turns into a white crystal dreamland that anyone of us would want to live in.
One of Japan's anticipated winter events,
Sapporo
's Yuki Matsuri (Snow Festival) was held in three venues:
Odori Park
,
Susukino
, and
Sapporo
Satoland. It's humble beginning started in 1950 when six local high school students crafted their own statues in
Odori Park
. Then followed by Japan Self-Defense Forces by creating a massive ice structures that made the simple ice carving to a huge festivity. The festival was held on the month of February and lasts for seven days.
Apart from feeding your eyes with these wonderful creations, you can indulge into various snow sport activities like skiing, snow gliding and snow boarding. After this freezing activities, savor the flavor of local hot ramen, a one of kind in
Sapporo
to ease the tingling sensation brought about by snow. You can also check out
Susukino
' s Ice Queen, a beauty contest held every year that showcase local beauties. Sights, fun and dine, that's what
Sapporo
has to offer. Who knows what will comes next?